Education through Experience!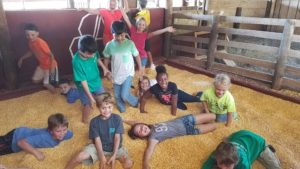 BOOK YOUR FIELD TRIPS NOW!!!
Spring Field Trips
Beginning April 3 through June 1 we will continue offering School field trips/Group tours of our ranch. Participants will have a unique opportunity to tour all our facilities and gain a hand's on experience of a real working ranch! Through our guided instructional tour, students will be able to interact with and observe all our animals while learning all about them! Most of our animals give birth during the spring months, so students will have a special opportunity to observe and interact with many new and exciting babies (we are expecting baby wallabies and a new camel)!!! The tours are designed to be both fun and educational while emphasizing our deep dependence on agriculture. Instructional tours are also designed to be age appropriate and will facilitate the learning of Florida's Sunshine State Standards. At the conclusion of the tour students will enjoy their lunch under the big red barn and have an opportunity to participate in all the activities in our "Kids Corral"!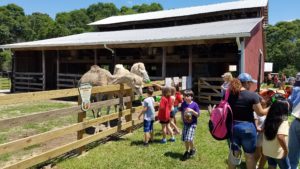 Tour Information
Tours are offered Tuesdays-Fridays from April 3 – June 1 (Reservations Required! Please call Josh @ 850-865-5812 or email @ joshuarnelson67@gmail.com to book your trip!)
Minimum of 20 paying participants required.
Maximum of 120 students per day (does not include teachers and chaperones).
Students $9 each (Includes tour and 1 flavored snow cone for each student)
Chaperones $6 each. Teachers and Bus drivers are Free.
Tour schedule: (Can be adjusted to fit your groups scheduling needs)
9:30  Arrive at Ranch
9:30-9:45 Introduction. Go over rules and instructions.
9:45-11:40 Guided instructional tour of all our animals and facilities.  Students will be led around the ranch by an adult guide at all times.  The animals are organized in stations.  At each station students will learn about each type of animal, then have an opportunity to pet and/or feed the animals.  The tour is very interactive!!
11:45-12:45 Lunch in the Big Red barn with games and activities in the "Kids Corral". (Bring your own lunch and drinks).  During lunch we will provide each student, chaperone, and yes…teachers too with 1 flavored snow cone.  After lunch students will have time to burn some energy playing on/in all the activities in the barn.  This time tends to be a favorite for many kids!
1:00  Depart for School
Tours include lessons about and opportunities to interact with and/or observe:
• Miniature donkeys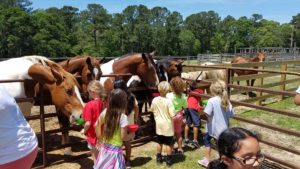 • Sheep
• Horses
• Camels
• Peafowl
• Chickens
• Ring-tailed Lemurs
• Sulcata Tortoises
• Pygmy Hedgehogs
• Bennett Wallabies
• Pigs
• Pygmy Goats
Activities in the "Kids Corral" include:
• Big tube slide
• Rope swings
• Corn Crib
• Corn hole
• Steer lassoing
• Hay slide
• 1 Ride per kid on the "Kiddie Train" and/or Tractor Hay ride (students can ride more if time allows)
• Feeding camels and horses
• (Activities available may vary)
Additional Information:
– Safety is always our primary concern. No students will be able to enter animal pastures or pens.
– Clean portable toilets are available on site
– Soap and hand washing stations are available on site
– Drinking water is available in water coolers
– We are a real working ranch…please wear close toed shoes!!
– Schools/students are responsible for bringing their own lunch and drinks.
– We need signed copies of each student's permission slip with the disclaimers below.
Attention:
As per Florida law, all permission slips filled out by student's parents/guardians must contain the following Warning disclaimers (please copy and paste disclaimers on your permission slips). We must receive a copy of every permission slip prior to the student visiting Rocking B-A-B Ranch!
*WARNING*
Under Florida law, an agritourism operator is not liable for injury or death of, or damage or loss to, a participant in an agritourism activity conducted at this agritourism location if such injury, death, damage, or loss results from the inherent risks of the agritourism activity. Inherent risks of agritourism activities include, among others, risks of injury inherent to land, equipment, and animals, as well as the potential for you to act in a negligent manner that may contribute to your injury, death, damage, or loss. You are assuming the risk of participating in this agritourism activity.
Under Florida law, an equine activity sponsor or equine professional is not liable for an injury to, or the death of, a participant in equine activities resulting from the inherent risks of equine activities.